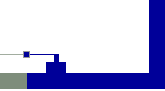 Virtual Tour
Please take a few minutes to view a Quicktime virtual tour of our main plants in Dallas
Dallas, Texas Facility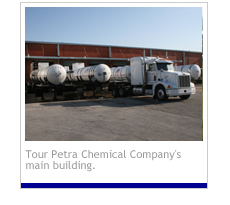 Petra Chemical Company , located in Dallas Texas, produces high-quality sodium hypochlorite for industrial and consumer use, provides liquid packaging, blending, and dry packaging. Take a virtual tour of our main building below.
Instructions: To view this virtual tour, you will need the Quicktime plugin. If you do not have the plugin, click the "Get Quicktime" link below.
Click "Main Building" above. A new window will open. You may have to wait a few seconds for the image to appear.
When the picture becomes viewable, roll your cursor over it.
Click and hold the mouse button down, and whichever direction you drag, the picture will move. You can rotate the pictures in any direction.
If you position the cursor in the picture, you can click the + or - button at the bottom of the window to zoom the image in or out. You can also hold down the SHIFT and CONTROL buttons to achieve the same effect.
Click the Petra logo to navigate through the building.

Overview | Dallas | Virtual Tour | Location | Contact | Site Map
*For information about Petra Industries in Fairmont, Illinois, please go to
www.brenntagmidsouth.com